Balmagyr (バルマギア, Barumagia?) is one of the stages in Deception IV: Blood Ties.
Metal Work Room
Edit
The metal refinery of Balmagyr Factory. The centerpiece of this room is the Blast Furnace, a giant piece of equipment for melting down ore and scrap metal. Down below, rivers of hot molten metal pose a serious hazard to anyone who enters the vicinity.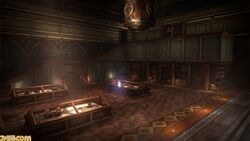 A room where the factory's latest technology and products were once showcased to visitors. Of all the impressive technology on display, the Scarlet Express that runs through here is sure to be the first to catch any visitor's eye.

Control Room
Edit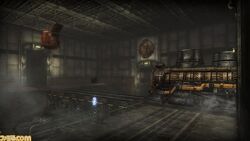 The control room for the Scarlet Express. The turntable in the center allows control over both the direction and speed of the train - a true marvel of technology during this factory's heyday.
Ad blocker interference detected!
Wikia is a free-to-use site that makes money from advertising. We have a modified experience for viewers using ad blockers

Wikia is not accessible if you've made further modifications. Remove the custom ad blocker rule(s) and the page will load as expected.