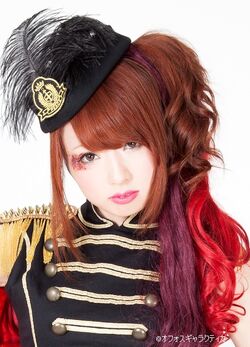 Daisy×Daisy is a Japanese pop group signed to AMG MUSIC.
The group was formed in 2005 by vocalist MiKA and composer yuuki. They made their debut 2007 with the mini-album pieces. However, on September 10th, 2008, yuuki announced his retirement from the group, leaving MiKA the only member of Daisy×Daisy.
In the year 2009, MiKA collaborated with producer Asakura Daisuke for her first single as a solo artist but she is still keeping the Daisy×Daisy name.
She is the younger sister of popular seiyuu Mizuki Nana.[1]
She wrote and performed the song "Princess of Fate" for Deception IV: Blood Ties, and "RED EXiSTENCE" for Deception IV: Another Princess.
MiKA provides the voice for Millennia in Deception IV: Another Princess.
Stage Name: MiKA
Birth Name: Kondo Mika (近藤みか)
Birth Date: October 4, 1983 (age 31)
Birth Place: Niihama, Ehime Prefecture, Japan
Blood Type: O
Family: Mizuki Nana (elder sister)
Pet: Hi-tan (ひぃたん) (chihuahua)
Favorite Artists: Michael Jackson, Metallica
Favorite Color: Pink
External Links
Edit
Ad blocker interference detected!
Wikia is a free-to-use site that makes money from advertising. We have a modified experience for viewers using ad blockers

Wikia is not accessible if you've made further modifications. Remove the custom ad blocker rule(s) and the page will load as expected.