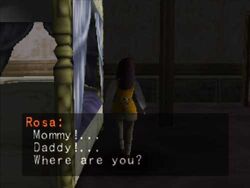 Rosa
is a minor character in
Tecmo's Deception: Invitation to Darkness
, appearing only in Chapter 3: Souls Essence.
With an unnamed illness, Rosa's parents, Grand and Lou, set out for the 100,000 gold reward in exchange for the prince's life. They do not return, however, leaving an unknowing Rosa orphaned.
Ad blocker interference detected!
Wikia is a free-to-use site that makes money from advertising. We have a modified experience for viewers using ad blockers

Wikia is not accessible if you've made further modifications. Remove the custom ad blocker rule(s) and the page will load as expected.