Slash
Japanese Name
スラッシュ
Romaji
Surasshu
Occupation
Soldier
Status
Deceased
Appearances
Kagero: Deception II
"A hot-head, but liked for his loyalty to friends."
—Description
Slash (スラッシュ) is the second enemy from Kagero: Deception II, a short-tempered warrior. After Daar visits the Castle in the Forest, Slash will investigate the castle in Chapter 2. If Daar had survived, he will tell what happened to Slash and go with him. If Daar was killed, Lilia will ask Slash to investigate her husband's disappearance. Regardless of the player's choices, Slash will attempt to attack Millennia and is killed by her. His friends Gastone and Hawk will then attempt to avenge him.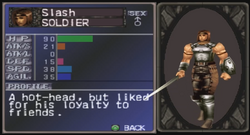 | Stat | Level |
| --- | --- |
| HP | 90 |
| ATK/S | 21 |
| ATK/L | 0 |
| DEF | 15 |
| SPD | 38 |
| AGIL | 35 |
Ad blocker interference detected!
Wikia is a free-to-use site that makes money from advertising. We have a modified experience for viewers using ad blockers

Wikia is not accessible if you've made further modifications. Remove the custom ad blocker rule(s) and the page will load as expected.