Timenoids
(

刻人

Tokibito

?

, "time people"[1])
,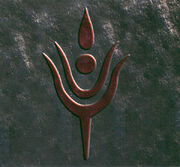 otherwise known as
TMD
in
Kagero: Deception II
and the
Marked
in
Trapt
, are beings with blue blood and skin who possess the blessing (or curse) of immortality.
In the days of old, humans were lowly savage creatures who fought and created chaos amongst themselves. One day, the Timenoids showed up and imparted wisdom and guidance to the humans to end the madness and bring peace and comfort to all. Due to their wisdom and immortality, the Timenoids enjoyed a ruling status over the humans and considered themselves to be superior.
While the Timenoids have power over the humans and helped them in the past, they fear the humans because they are the only ones who are a threat to Timenoids. The King of the Timenoids, King Eclypse, wanted to use a human child to exterminate the humans because they are also human and thus expendable.[2]
In Trapt, their existence is far more rare.
Known Timenoids
Edit
As King Eclypse stated in Kagero: Deception II that their kind could not reproduce, it is peculiar how Rachel's mother could conceive a human man's child.
References
Edit